If you've ever spent any time in Clio, California, you know that it's probably one of the mellowest places on Earth. This charming hamlet along the wild and scenic Feather River is a sweet and friendly neighborhood with a small town post office. It is also home to the Blackbird Inn and Ricochet Café.
Built in 1900, the iconic General Store building now houses the Inn and plays host to visitors and locals alike. The rooms at the Blackbird Inn are spacious and comfortable and start at just $90 a night. With consistent 4+ ratings on tripadvisor.com, the Blackbird Inn is the ideal place to stay.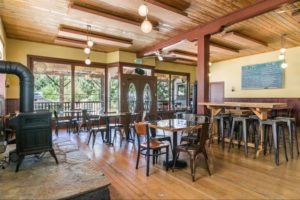 Ricochet Café is open from noon to 9 p.m. Thursday through Monday year round. Enjoy delicious and healthy meals featuring savory waffles and tacos, or try one of their delectable salads. Top it off with a glass or wine or locally-brewed IPA, and it's practically perfect.
You'll find live music and dancing in the streets, so come, celebrate the best things in life with your friends at Blackbird Inn and Ricochet Café.
Oh! And did we mention: Sierra Destination Realty is right next door!