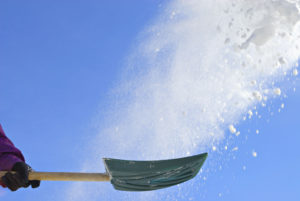 Winter in Plumas County is exceptionally beautiful. But before you can go out and enjoy winter recreation, you may need to move a bit of snow. Here are some of our favorite tips and hacks for making the job easier and safer.
When you head out to shovel, keep your phone on you just in case you fall and need help.
Put stakes around the edges of your walkways and driveway that you or your snow removal team doesn't damage any bushes, grass, or gardens.
Water is the number one enemy of your home. So don't place snow near your home's foundation or windows! It will eventually melt and could cause serious damage.
Shovel often if you're expecting a lot of snow. Don't let more than 6" accumulate or you'll be paying for it later with lots of heavy snow to shovel.
Shovel in layers if a lot of snow has fallen so as not to hurt your back. Make sure you're using proper technique.
Shovel early in the day to prevent the snow from getting compacted from people walking on it.
When shoveling, wear clothing that wicks moisture away from your body. It may be cold outside, but shoveling is a work out, and you will sweat.
Kitty litter works as a great source of traction on icy surfaces.
Invest in a good window scraper for your vehicle. A credit card may do in a pinch, but you need something sturdy for frequent use.
Take breaks and drink plenty of fluids. It's not a contest, and you need to take care of you so you can go out and play after the work is done.